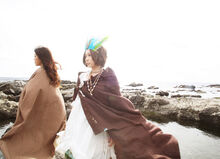 BETTA FLASH is a Japanese pop group formed by vocalist Cyua and composer TAMAYO. The group debut in 2007 with the single "Erinyes" which was featured on the soundtrack for the anime series Night Wizard! The ANIMATION.
Cyua (vocals)
Kawamoto Tamayo (河本圭代) (composer)
Discography
Edit
Mini-Albums Edit
Digital Downloads Edit
[2008.07.02] BETTA FLASH RMX 01 (remix single)
[2008.10.13] Feng Wu (鳳舞)
[2009.02.20] AGATA
[2009.01.25] BETTA FLASH RMX 02 (remix single)
Compilation / Other Edit
The Original soundtracks Night Wizard! The ANIMATION (#40 Erinyes (TVSize))
HYPER GAME MUSIC EVENT 2007 EXTRA -THE LIVE ALBUM vol.1 (#9 BLUE -Chikyuu ni Sumu Hi-)
Night Wizard! The ANIMATION The BEST vocal collection (#9 6th body, #10 Enriyes)
Thunder Force VI ("Opening" and "Ending" Themes)
External Links
Edit
Ad blocker interference detected!
Wikia is a free-to-use site that makes money from advertising. We have a modified experience for viewers using ad blockers

Wikia is not accessible if you've made further modifications. Remove the custom ad blocker rule(s) and the page will load as expected.