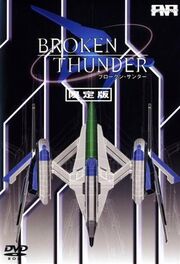 Broken Thunder (ブロークンサンダー Buroken Sandaa) is a Doujin game released for the PC on 2007 by Factory Noise and AG, the game was only available in Japan.
The gameplay of Broken Thunder was a very basic version of it's official Thunder Force counterparts, since it lack of the traditional Stage selection, but the player is able to select if he/she wants to choose from the RVR-03G1 "Bracer" or the Fire LEO-05VC "Syrex", altough it keeps the same controls as the Thunder Force games.
Twin Shot: Basic weapon of both Bracer, Broken Thunder and Syrex, it fires two parallel lasers.
Back Shot: Like its name says, it fires lasers from behind your ship, all the ships have this weapon.
Wave: This weapon fires crescent shaped lasers, this weapon is only available on the Syrex and Broken Thunder.
Freeway: First seen in Thunder Force IV, the Freeway fires 3 powerful lasers in a specific direction, its aim can rotate 360º only Bracer & Broken Thunder can use it.
Vector Cutter: This is a short-range, but quite powerful blade weapon for cut your enemies in pieces, only the Syrex and Broken Thunder can use this weapon.
Hunter: In the tradition of the Thunder Force games, the Hunter is your homing weapon, it can be used by the three ships.
Over Weapon
Edit
The Over Weapon is also present in Broken Thunder, but unlike Thunder Force V's CRAW controlled blast, in this game the Over Weapon burns 1/3 of a CRAW in a forced blast, like a bomb format, and it can be a waste because strong enemies and bosses just move away during a blast.
Development and Reception
Edit
In 2001, a video game music album was released from the band "Noise" entitled Broken Thunder: Noise Image Soundtrack Volume 3 featuring music intended to be used in the cancelled Thunder Force VI for the Dreamcast. The soundtrack is composed by Tsukumo Hyakutaro, Noise band member and music composer for many of Tecno Soft's games (including Thunder Force V).
On December 5, 2005, the music featured in Broken Thunder: Noise Image Soundtrack Volume 3 was re-released along with other arrangements from previous Thunder Force games on an album entitled Thunder Force VI Soundtrack ~Broken Thunder~ published by Factory Noise & AG.
Internet rumors have been floating around that Tecno Soft, who has not been heard from since the early 2000s, are currently rehiring staff and planning to release Thunder Force VI in the fiscal year of 2006 for an unnamed game system. This rumour later turned out to be Broken Thunder.
Factory Noise & AG released a sample CD of Broken Thunder, which contained a High resolution video of the game opening, 20 wallpapers and 3 MP3 tracks. The game was later released on the PC in both a collector's edition which also contains a soundtrack CD, and a standard edition. However the game itself is generally considered an inferior and incomplete product, because the contents lack polishing(e.g. most of boss models are inanimate solid objects); and a text file in the game DVD indicates that the producer himself also believes the game "does not include 1/3 of designed elements", and plans to update the content in the form of a free patch. As of May 2007, all shops have stopped selling the game and existing copies have been taken off the shelves.