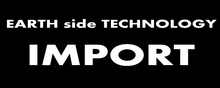 IMPORT is an Earth Side Technology introduced in Thunder Force VI. It can be seen during the "Loading screens" next to the Guardian's Heart logo on the left side of the screen. The purpose and function of this technology are unknown. IMPORT is a technology bundled into the RVR-00 "Phoenix".
Ad blocker interference detected!
Wikia is a free-to-use site that makes money from advertising. We have a modified experience for viewers using ad blockers

Wikia is not accessible if you've made further modifications. Remove the custom ad blocker rule(s) and the page will load as expected.