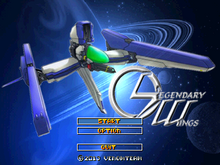 Legendary Wings is a doujin Thunder Force game designed by Venomteam in 2013
Athough the game is based on Thunder Force V, it also uses graphics from other shoot em' up gams lke Gaiares, Pulstar, Carrier Air Wing, Air Buster, Blazing Star, Darius Force (Super Nova) and Darius Gaiden: Silver Hawk.
The music and sound effects are mostly from Thunder Force V, but also borrows from other games like G-Darius and Megaman X.
Federico "Venom" Botaini - Programmer
Giani "AT Ryo Sakazaki" Finocchi - Graphics artist
Nicola "UaiZ" Bianchi - Debugger / Beta Tester
Simone "Bouledouge" Nocentini - Debugger / Beta Tester
The "Steel of Destiny" audio track used is Pandora, a song by Maurizio "Mitsuhashi" Seghi
http://lw.uaiz.it - Download link.
Ad blocker interference detected!
Wikia is a free-to-use site that makes money from advertising. We have a modified experience for viewers using ad blockers

Wikia is not accessible if you've made further modifications. Remove the custom ad blocker rule(s) and the page will load as expected.