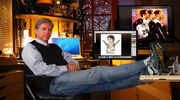 Marc William Ericksen is a veteran videogame artist, who created well over 100 illustrations for game box covers, Point of purchase posters and graphics, arcade flyers such as U.N. Squadron for Capcom USA, and covers for magazines like GamePro, including spreads for gaming tips, and PC Games, between 1982 and 2003.
Ericksen, Thunder Force and his other works
Edit
Marc made the box art for the US Sega Genesis port of
Thunder Force II
, depicting the Fire LEO-02 Exceliza firing multiple lasers against an ORN base. He was then contacted to produce the cover for TFII's sister game,
Herzog Zwei
.
Some of his other contributions were the box art for Tengen's Tetris, After Burner, and Blasteroids, Capcom's Mega Man II, Strider, Data East's Bad Dudes, Heavy Barrel, and Atomic Runner, Broderbund's Choplifter, Track Attack, Stellar Shuttle, Star Blazer, and David's Midnight Magic, Electronic Arts' Super Baseball 2020, James Pond II: Codename Robocod, Strike Gunner S.T.G., and B.O.B., and Sega's Space Harrier II, Racing Aces, SNK's P.O.W. Prisoner Of War, Guerrilla War, Mechanized Attack, and Ikari Warriors III.