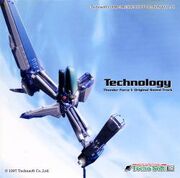 Technosoft GAME MUSIC COLLECTION VOL.10 ~ Technology ~ Thunder Force V Original Sound Track is the 10th album released by Tecno Soft in October 1, 1997. Like its name says, it features the soundtrack of the game Thunder Force V.
Tracklist
Edit
All the tracks were composed and arranged by Tsukumo Hyakutaro
Rising Blue Lightning (Reffi's Mix) 5:11
Steel Of destiny (Ishtar Edge ReMix) 5:06
Prologue Of Thunder Force V 1:21
Beginning Of War 0:24
Attack Point 0:58
Legendary Wings 3:13
Deep Purple 2:37
Beast Jungle 4:01
Iron Maiden 2:39
Rising Blue Lightning 3:51
A3 2:53
Cyber Cave 3:56
Guardian's Knight 4:01
Steel Of destiny 4:01
Duel Of Top 2:45
Electric Mind 3:34
Fatherless Baby 3:04
The Justice Ray Part2 5:09
Please Seal It Up! 0:48
Return To Blue Sky 0:59
Last Letter 2:37
Game Over 0:10
Tan•Tan•Ta•Ta•Ta•Tan 1:28
Record Of Fight 1:35
Count Down To Die 0:49
Last Letter (Complete Version) 4:03
Ad blocker interference detected!
Wikia is a free-to-use site that makes money from advertising. We have a modified experience for viewers using ad blockers

Wikia is not accessible if you've made further modifications. Remove the custom ad blocker rule(s) and the page will load as expected.