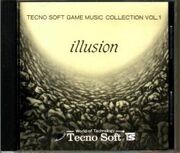 "Illusion" is the name of the first entr of the Technosoft GAME MUSIC COLLECTION series released by Tecno Soft. It was released on May 1, 1989.
This album features the soundtracks of Thunder Force II, Herzog (the PC-8801 variant), Batten Tanuki no Daibouken, Shin Kyuugyokuden, Kyuugyokuden, Comsight, D' and Feed Back.
It also has MSX and Sharp X1 versions as well, as for the PC-8801 version was the "intended" version to play.
Tracklist
Edit
A ray of hope 1:32
The wind blew all day long 1:24
Knights of legend 3:56
Back to the square one 2:22
Batten Tanuki no Daibouken Main Theme 2:45
Tanuki's Ballade 2:35
Charge [USER'S ORIGINAL MUSIC] 3:49
Straight Away 4:27
Stranger 4:56
Legend of nine gems (KG.OPENING) 1:39
Power of gems 3:10
Electric world 2:35
Originate the strategy by yourself 0:48
Back to the square one 2:19
Sniper 2:15
The dawn of a new age 0:34
Macro Cosmos 2:55
Feedback [New version] 1:13
The nine gems 0:49
Straight Away 2:25
The load of "HOTOKE" 2:15
Look for the number eight-GAME OVER 2:16
Last chance 2:49
Take off one's gloves [New version] 2:10
Star dust requiem 3:25
Arrange Version: 1-9
Original Version: 10-25
Composition:
Tomomi Ohtani: 1-4, 13, 14, 24
井手: 5, 6
Yuao Tanigawa (谷川 百明生): 7
難波 洋子: 8, 9
Naosuke Arai: 10-12, 15-19, 21, 23, 25
船崎 賢司: 20
庄村 美智子: 22
Arrangement:
Naosuke Arai: 1-6, 8-12, 15-17, 19-23, 25
Osamu Tsujinawa: 2-4
Yuao Tanigawa: 7
船崎 賢司: 8, 9
Tomomi Ohtani: 13, 14, 18, 24
Performance:
船崎 賢司: Electric Guitar (8, 9)
難波 洋子: Keyboard (8, 9)
外尾 恒浩: Electric Bass (8, 9)
Games:
Thunder Force II: 1-3, 24
Herzog: 4, 13-16
Batten Tanuki no Daibouken (Black Spot Tanuki's Great Adventure): 5, 6
Shin Kyuugyokuden (New Legend of Nine Gems): 8, 9, 19-22
Kyuugyokuden (Legend of Nine Gems): 10, 11
Comsight: 12
D': 17, 25
Feed Back: 18, 23