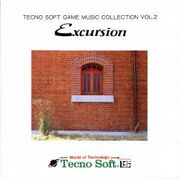 The second entry in the GAME MUSIC COLLECTION, "Excursion" is an album featuring tracks of Thunder Force II, Herzog Zwei II and Shin Kyuugyokuden.
It was released in February 1, 1990
Tracklist
Edit
Scramble Gals Club 1990 (from Thunder Force II MD Stage 1 BGM) 2:24
The super fighter invigorated us (Map 8 BGM - OASE) 3:38
The Previous war ~ Jagd flieger (Map Secret BGM ~ Opening Theme) 2:13
There is no time to loss (Map 1 BGM - ABGRUND) 2:14
Be his soul rest in peace (Ending Story BGM) 1:27
Go with the stream (Ending Theme) 2:56
On the street corner (Town BGM) 4:10
Etude of wind (Underground Maze BGM) 2:31
The legend of nine gems (Battle BGM) 5:08
Night closed upon the scene (Underground Labyrinth BGM) 3:38
Clazy dance Part I (Boss BGM) 2:53
Adventures (Highway star) (Ending Theme) 3:44
Ad blocker interference detected!
Wikia is a free-to-use site that makes money from advertising. We have a modified experience for viewers using ad blockers

Wikia is not accessible if you've made further modifications. Remove the custom ad blocker rule(s) and the page will load as expected.