About the Series
The Thunder Force Series is a series consisting of six shoot 'em up video games. Most of the games revolve around a group called the Galaxy Federation struggling to protect the galaxy from the evil, omnicidal ORN Empire, to gain the advantage in the war, they construct a a series of small, but powerful starfighters, to help counter the invading forces and destroy the main source of the Empire.
Organizations

Main Bosses

Other Bosses
Other Shoot'em Ups by Techno Soft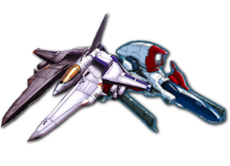 Ad blocker interference detected!
Wikia is a free-to-use site that makes money from advertising. We have a modified experience for viewers using ad blockers

Wikia is not accessible if you've made further modifications. Remove the custom ad blocker rule(s) and the page will load as expected.