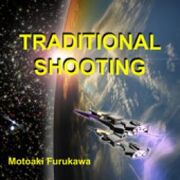 Traditional Shooting is a digital album feautring tracks intended to be used in Thunder Force VI, all of them are composed by Motoaki Furukawa.
The album is only availabe at the Japanese iTunes store.
Tracklist
Edit
Crisis of a Planet 3:32
Metallic Soldier 3:10
Operation-9 3:42
Another Criminal 1:29
Shining Sky 1:25
Crisis of a Planet #2 4:00
Ad blocker interference detected!
Wikia is a free-to-use site that makes money from advertising. We have a modified experience for viewers using ad blockers

Wikia is not accessible if you've made further modifications. Remove the custom ad blocker rule(s) and the page will load as expected.